Photographers Profile | UK Landscape Photographer Nick Cockman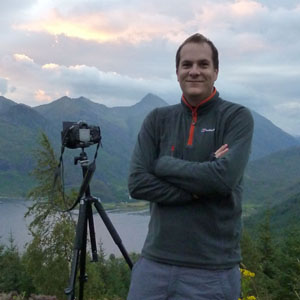 I am a Landscape photographer currently based in Sheffield on the edge of the Peak District National Park. My recent move to Sheffield has meant that I have been able to begin to explore the Peak District National Park and the beautiful countryside around the City of Sheffield itself. I also make regular trips to the Lake District and more recently further a field to the Scottish Highlands.
Photography for me would still be classed as a hobby with aspirations to become a full time professional in the near future. My love of the outdoors has lead to me working full time for one of the countries leading outdoor retail specialists in the design and photography department.
Along with most other leading Landscape photographers, my experiences have taught me how to read the contours of landscape and anticipate the way in which the light will fall on the land enabling me to plan to be in the right place at the right times of day. My favourite time of day is dawn when the light and air is fresh and the warm tones interact with the landscape in a truly special way. I am completely self taught having over the past few years read photography books and followed a number of online photography forums. This has enabled me to practice and refine my skills and develop a style which is based on getting the most out of the scene through use of natural light and more importantly the colour hidden in the landscape. I am not an overly arty type, all I ask is that you sit back and enjoy my images of the beautiful countryside and national parks that surround us.
All of the images on this website are available for purchase, the many print options can be seen by clicking on the 'buy now' button below each gallery image. Information about our prints can be found on our
Prints page
. I have a small range of stock items which is available for immediate dispatch, these can be viewed on the
Current Stock
page. Images are available to be licensed for publication and commercial use either directly or through the
Alamy
stock agency.
>>
Most viewed photos
<<
Past Achievements:
Winner of the Yorkshire Water Calendar Competition 2005
Overall Winner of the 2006 Northern Shores Competition receiving Best in Show
Winner of Landscape category of the 2008 Enjoy Warwickshire Competition
Commended in 2011 CeWe Warwickshire Life Competition
5 images short-listed in the 2012 Take a View Landscape Photographer of the Year Competition
Current Equipment List:
Nikon D7000
Nikon 17-55mm
Manfrotto 055XB tripod
Cokin Z-Pro filter system
(many images on this site were taken with the Nikon D200 & Nikon D50)